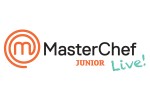 MasterChef Junior Live! **NEW DATE**
April 13, 2021 7:00 PM


More Information
TICKET PRICES CURRENTLY AVAILABLE
ADULT.: $125.00 / $55.00 / $50.00 / $45.00 / $35.00
CHILD.: $125.00 / $25.00
GROUP.: $125.00 / $49.50 / $45.00 / $40.50 / $31.50
VIP.: $125.00
CERTIFIKID OFFER.: $36.00 / $33.75 / $30.75

TICKET SALE DATES
ADULT. / CHILD. / GROUP. / VIP. / CERTIFIKID OFFER. Public Onsale: September 14, 2020 10:00 AM to April 13, 2021 7:00 PM

Due to restrictions on public gatherings and in keeping with industry decisions, the MasterChef Junior Live! tour has been rescheduled, including the March 21 show at Dominion Energy Center. The new date for Richmond is Wednesday, October 21 and tickets for the rescheduled show will be honored at the rescheduled date. While we hope patrons will be able to attend the new performance date, refunds may be requested at this time. Thanks for your patience and understanding during this difficult time.

MasterChef Junior Live! is coming to your hometown. Due to popular demand, this high-energy, interactive stage production is extending its debut tour to 40 new U.S markets in 2020 bringing the culinary hit TV show MasterChef Junior directly to fans and foodies alike...LIVE onstage! The family-friendly show will feature head-to-head cooking demonstrations and fun (sometimesmessy!)challenges with past MasterChef Junior contestants, and an overall immersive audience experience fun for all ages. Bring the whole family to see MasterChef Junior Live! It's a recipe for a guaranteed good time! Get your tickets today!

Be a part of the exclusive MasterChef Live! VIP experience! Get the best seats in the house, meet the cast, receive a signed show poster, ask questions, take photos and more! It all starts one hour before show time.

All ages require a ticket.

Purchase Accessible Seats