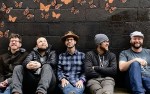 Pert Near Sandstone
March 21, 2020 8:00 PM
/ticket/p/7101382/pert-near-sandstone-milwaukee-colectivo-coffee
03-21-2020 21:00:00
03-21-2020 21:00:00
Pert Near Sandstone
Colectivo Coffee
true
MM/DD/YYYY
Doors Open: 7:00 PM

More Information
TICKET PRICES CURRENTLY AVAILABLE
TICKET: $15.00

TICKET SALE DATES
TICKET Public Onsale: December 20, 2019 12:00 PM to March 21, 2020 6:00 PM

Pert Near Sandstone first gathered around a microphone in a Minneapolis basement to record their debut album more than a decade ago and since that time, they have cemented their status as linchpins of the Midwestern acoustic scene with energized interpretations of the traditional old-time sound. Through constant touring and variety of festival appearances such as the prestigious Telluride Bluegrass Festival, as well as sharing bills on the road with the likes of Trampled By Turtles, Del McCoury Band, Sam Bush and more, the band has tapped their fan base to undertake their most ambitious project to date: co-founding the Blue Ox Music Festival. Pert Near are currently in the studio recording with original founding member Ryan Young (Trampled by Turtles) and will release their next studio album in spring of 2020.

Smoke free. All ages. Wheelchair accessible.

Special needs seating call (414) 286-3205.

All sales final. No refunds, exchanges or 3rd party pick-up.

Regardless of the Method of Delivery selected, the box office reserves the right to switch any tickets to will call pickup at the box office for pick-up starting 2 hours before the show's start time. A photo ID and the charge card used for the purchase must be presented.

THIS TICKET MAY NOT BE RESOLD FOR ABOVE FACE VALUE BY ANY INDIVIDUAL. ANY INDIVIDUAL OR ENTITY RESELLING THIS TICKET FOR ABOVE FACE VALUE BY ANY METHOD, INCLUDING, WITHOUT LIMITATION, IN PERSON, ON AN AUCTION WEBSITE, OR OTHERWISE OVER THE INTERNET, IS SUBJECT TO LEGAL ACTION. ANY TICKET FOUND TO BE OFFERED FOR RESALE ABOVE FACE VALUE WILL BE VOIDED AND SUBJECT TO ADDITIONAL FEES.

Any questions? Call the Pabst Box Office: (414) 286-3663.