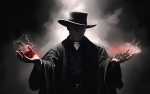 Ozarks Lyric Opera Presents: THE BLACK RIDER: The Casting of the Magic Bullets 4.19.24
April 19, 2024 7:30 PM
/ticket/p/8404347/ozarks-lyric-opera-presentsthe-black-riderthe-casting-of-the-magic-bullets-41924-springfield-gillioz-theatre
04-19-2024 20:30:00
04-19-2024 20:30:00
Ozarks Lyric Opera Presents: THE BLACK RIDER: The Casting of the Magic Bullets 4.19.24
Gillioz Theatre
true
MM/DD/YYYY
Doors Open: 6:30 PM
More Information
TICKET PRICES CURRENTLY AVAILABLE
INDIVIDUAL: $47.00 / $37.00 / $27.00

TICKET SALE DATES
INDIVIDUAL Public Onsale: August 7, 2023 10:00 AM to April 19, 2024 8:30 PM

By TOM WAITS and WILLIAM S. BURROUGHS, this Midwest Premiere is an opera like you have never experienced before. Featuring a haunting, operatic score by the one and only singer-songwriter, and actor Tom Waits and words by legendary writer, William S. Burroughs, this Faustian musical fable had its stage premiere in 1990, and was followed by an eponymous album title released on Island Records by Waits in 1993.
The opera centers on the character of Wilhem, a clerk, who is in love with a huntsman's daughter, but must win her father's approval by proving his worth as a marksman. He is offered magic bullets by Pegleg, the Devil, which he believes he can control. Based on elements of German folklore and Burroughs' real-life "William Tell legend" tragedy, this RARELY produced opera presents an enigmatic tale of addiction and intrigue.
Free Valet parking provided by OLO.
______________________________________________________
If you or a member of your party require ADA seating, please call us at 417-863-9491 to reserve your seats.

Personal Responsibility Statement: The historic Gillioz prides itself on offering a diverse selection of arts entertainment. Not all productions may appeal to or be appropriate for every person or for all ages. Patrons are encouraged to familiarize themselves with the shows we offer in order to make informed decisions prior to purchasing tickets.


Tickets for this event are reserved seating. Call our box office at 417-863-9491 with any questions.
The Historic Gillioz Theatre was built in 1926. Balcony seating is closer together than Orchestra seating. If you or a member of your party is tall or require more leg room, we advise purchasing Orchestra level seating.
PLEASE NOTE THAT THERE IS NO ELEVATOR ACCESS TO THE BALCONY SEATING AREA.
To see our Frequently Asked Questions and Venue Policies, please visit HERE.