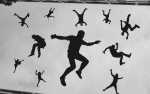 Night! Night! Record Release Show, with Weird God, Scrape
January 5, 2024 9:00 PM
/ticket/p/77995378/nightnightrecord-release-showwith-weird-godscrape-carrboro-cats-cradle-back-room
01-05-2024 21:00:00
01-05-2024 21:00:00
Night! Night! Record Release Show, with Weird God, Scrape
Cat's Cradle - Back Room
true
MM/DD/YYYY
Doors Open: 8:00 PM
More Information
TICKET PRICES CURRENTLY AVAILABLE
ADVANCED: $10.00

TICKET SALE DATES
ADVANCED Public Onsale: November 8, 2023 2:00 PM to January 5, 2024 9:00 PM

Night! Night!
Sleazy Post-Hardcore from Chapel Hill.
Bandcamp
|
Instagram
Weird God
brothers making music
marc allen - guitar
ethan allen - drums
Bandcamp
Scrape
North Carolina-based scrape straddles the industrial minimalism of guitar based noise expressionism with avant-punk experimentalism. Finding solace in sludge, doom, and grunge, scrape craft a kaleidoscopic view of reality within a complex biosphere of metal genres.
Bandcamp