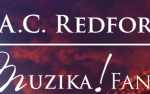 2023 Muzika! The Grand Music Festival
Conductor: Maestro Gregory Buchalter, The Metropolitan Opera
June 25, 2023 4:00 PM
/ticket/p/5982406/2023-muzikathe-grand-music-festival-augusta-miller-theater
06-25-2023 16:00:00
06-25-2023 16:00:00
2023 Muzika! The Grand Music Festival
Miller Theater
true
MM/DD/YYYY
Doors Open: 3:00 PM
More Information
TICKET PRICES CURRENTLY AVAILABLE
VIP: $130.00
RESERVED: $130.00 / $80.00 / $60.00 / $40.00

TICKET SALE DATES
VIP / RESERVED Public Onsale: February 3, 2023 10:00 AM to June 25, 2023 4:00 PM

Composer: J.A.C. Redford, Hollywood composer and orchestrator of Avatar and Skyfall
Varna International Chorus and Orchestra
Muzika! Festival is proud to present an exciting world premiere: Symphony #2: A Plague Journal, by acclaimed Hollywood composer J.A.C. Redford. This work focuses on the theme of hope through trying times, and connection through music. Audiences everywhere will enjoy this lavish performance of a lifetime! For more information on J.A.C. Redford and a message from the composer himself, click here!

J.A.C. Redford is a renowned American composer who has worked in Hollywood for decades, collaborating on Oscar winning film scores such as Avatar, James Bond's Skyfall (he arranged, conducted and recorded Adele's hit Skyfall when the movie was released), and Disney's Finding Dory. This concert will also feature a world premiere of Muzika! Fanfare, a large-scale symphonic work, and Homing, a piece featuring a full choir made up of phenomenal singers and orchestra, under the baton of Metropolitan Opera conductor: Maestro Gregory Buchalter. The June 25th performance will feature Maestro Gregory Buchalter and a full symphony orchestra with no less than 72 players.
Sponsors and VIP ticket holders are invited to join us after the performance for a VIP event to meet the composer, Metropolitan Opera conductor: Gregory Buchalter, and the founding-directors of "Muzika!": Kalin and Sharon Tchonev.
Do not miss this important symphonic debut in Augusta of a true Hollywood icon!
Thoughts from the composer:
Symphony #2 takes the listener on a journey from alarm, through grief to the dawning of fresh hope.
Homing is a musical exploration of the profound human longing for a place where we belong.
Muzika! Fanfare underscores an atmosphere of occasion and delight.
To read about "Muzika!": https://varnainternational.com/muzika/