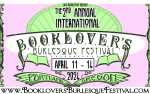 THE 2ND ANNUAL INTERNATIONAL BOOKLOVER'S BURLESQUE FESTIVAL- Grand Showcase #1
April 12, 2024 7:00 PM
/ticket/p/41401536/the-2nd-annual-international-booklovers-burlesque-festivalgrand-showcase-1-portland-alberta-rose-theatre
04-12-2024 22:00:00
04-12-2024 22:00:00
THE 2ND ANNUAL INTERNATIONAL BOOKLOVER'S BURLESQUE FESTIVAL- Grand Showcase #1
Alberta Rose Theatre
true
MM/DD/YYYY
Doors Open: 6:00 PM
More Information
TICKET PRICES CURRENTLY AVAILABLE
GENERAL ADMISSION: $25.00
PREFERRED: $40.00

TICKET SALE DATES
GENERAL ADMISSION / PREFERRED Public Onsale: September 22, 2023 7:21 PM to April 12, 2024 6:00 PM

Join us for THE INTERNATIONAL BOOKLOVER'S BURLESQUE FESTIVAL! Our event is a one-of-a-kind sensual literary weekend celebration of two uniquely different, open-themed BOOKLOVER'S BURLESQUE shows that highlight a mix of ANY & ALL GENRES of the written word matched with burlesque, boylesque, and draglesque artists chosen from around the country and the world!
Each night on April 12th and 13th, we will feature different world-renowned "Guest of Honor" performing artists and authors, professional actors/readers, and specially-curated burlesque, boylesque, and draglesque acts chosen for our festival. And just as a library is an eclectic mix of books, our festival shall also celebrate an eclectic mix of all types of writing matched with all types of performers. Our shows are sex/body/queer positive, feminist, and inclusive to all!
Come join us for one or BOTH nights of our special inaugural festival happening on April 12th and 13th at The Alberta Rose Theatre!
Our History:
BOOKLOVER'S BURLESQUE, produced by Lacy Knightly/Nick Lacy of Lacy Productions, is the world's sexiest literary salon which matches titillating, inspiring, and/or empowering book readings with burlesque, boylesque, or draglesque performances. Professional readers, actors, or authors read aloud a piece of writing from any genre and are then followed by a burlesque, boylesque, or draglesque performance inspired by the piece in aesthetic, feel, emotion, character, plot, etc.
Since early 2016, we have produced quarterly shows highlighting genres such as gothic literature, science fiction, erotica, fantasy, fairy tales, mysteries, classic literature, and more. We strive to raise up both the literary and the performing arts, empower others as well as entertain through the written word and a bit of tease, support and promote books, literacy, and burlesque, and be open, diverse, and inclusive to all in a safe, welcoming environment.
$25 GA Advance
$30 GA At the Door
$40 VIP with Preferred Seating (first 7 rows of the center section – available in advance only)
------
Door tickets sold only if available on a first come, first served basis! Once we reach capacity there will not be tickets available at the door.
21 & over only