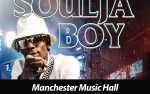 Soulja Boy **POSTPONED FROM (May 14th)**
August 26, 2023 8:00 PM
/ticket/p/2344179/soulja-boy-postponed-from-may-14th-lexington-manchester-music-hall
08-26-2023 20:00:00
08-26-2023 20:00:00
Soulja Boy **POSTPONED FROM (May 14th)**
Manchester Music Hall
true
MM/DD/YYYY
Doors Open: 7:00 PM
More Information
TICKET PRICES CURRENTLY AVAILABLE
ADVANCED: $35.00
DAY OF: $45.00
VIP MEET & GREET: $110.00

TICKET SALE DATES
ADVANCED Public Onsale: March 10, 2023 10:00 AM to August 25, 2023 11:59 PM
DAY OF Public Onsale: May 14, 2023 12:00 AM to August 26, 2023 11:59 PM
VIP MEET & GREET Public Onsale: May 16, 2023 11:45 AM to August 26, 2023 11:59 PM

18+
Soulja Boy is an American rapper and record producer. He rose to prominence, after his self-published debut single "Crank That (Soulja Boy)" peaked at number 1 on the Billboard Hot 100, for seven non-consecutive weeks in 2007. He then released his debut album Souljaboytellem.com (2007), which also included the single "Soulja Girl".
His second album ISouljaBoyTellem (2008), included in the Billboard Hot 100 top 20 singles "Turn My Swag On" and "Kiss Me thru the Phone" (featuring Sammie). Way was listed at number 18 on the Forbes list of Hip-Hop Cash Kings of 2010 for earning $7 million that year.
Way is known for having the first single to sell over three million digital copies, due to the success of his commercially successful debut single "(Crank That (Soulja Boy))".
Way has garnered popularity through the use of social media. Since 2006, Way's official You Tube channel has accumulated well over a billion views and more than three million subscribers. Way was one of the first rappers to capitalize on use of social media for digital marketing in the beginning of his career.